We came. We made scary faces. We jumped, danced, wiggled. We ran. We hopped. We sang. We screamed. And... we napped!
Today my partner in crime (PiC) and I did our library's second ever Storytime Skit storytime day. This is when we bring story characters to life and act out our stories, and try to get the kids involved as much as possible. We decided to do joint stories as a way to show the families that instead of just reading the stories in a book they could just act it out, which creates a whole new level of fun and learning! Plus, it's a great excuse for two Children's Librarians to get completely silly and to put their acting skills to the test.
At the end of each program we also took the time to say that this is one way to get more involved with their child. It's play! Make it fun! Dive into those stories and live them instead of just reading them once or twice. We explained to the caregivers that it is really easy to make costumes with things from home, and felt is super inexpensive and easy to work with to make headbands. We hope that they will become more involved in their child's reading and exploration of stories.
Today we celebrated the amazingly awesome author Jan Thomas!
HOW DID IT GO?
It was GREAT! AWESOME! The best one yet! It was a wonderful way to for us to finish the summer storytime season with the families and one daycare that have been coming to our program the whole season. We moved our Preschool Storytime to our large program room so that all the children (especially the daycare group) had plenty of space to be active. Also, it allowed PiC and I to run around the entire group. We even got to use the stage for one of our stories (now I know how our special summer performers feel... which is awesome! P.S. you can probably tell by now that I love the word "awesome"... everything is awesome!). I can't wait till we get to do this again.
BOOKS
Can You Make a Scary Face? written and illus. by Jan Thomas (T, P)
We started with this book first. It helped get the wiggles out, but also it helped explain why PiC and I were dressed as ladybugs (see Props below). In Toddler Storytime we were in our normal storytime room, so we didn't run around as much. However, in the Preschool program we were in our large room, which allowed me (acting as the giant frog with a puppet) and PiC to run completely around the room and the group of children, which all of them loved. I would stop every so often to ask a child if s/he could make a scary face, which they would and I would go on screaming again.
Is Everyone Ready for Fun? written and illus. by Jan Thomas (T, P)
This was our second book. I wore my cow ear headband while PiC wore a yellow hoodie and a chicken comb headband. We used a large piece of red felt for my sofa. We also handed each child a sofa that was printed on red paper. They were suppose to be cows too and jump on a sofa. This was so much fun!
Let's Sing a Lullaby with the Brave Cowboy
written and illus. by Jan Thomas (P)
We only did this story with the Preschool group because we knew that Toddlers wouldn't last through two stories. Even though we practiced it to be just like the book, we ad-libbed a bit on this one to stretch it out and make it even funnier. I was the "brave" cowgirl and PiC and the children were the little cows. I used my ukulele and sang the lullaby (the first time I've played and sang with my uke in a storytime!!!). We used a giant sunflower, a dowel rod, and a coyote puppet as our props. When it came to have the large lumbering bear, I simply got close to the audience so that CiP was behind me. It worked out great!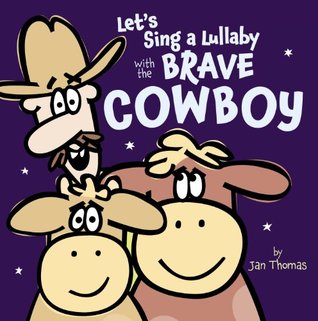 SONGS & RHYMES
Open, Shut Them (T, P)
Open, shut them,
Open, shut them,
Give them a little clap.
Open, shut them,
Open, shut them,
Lay them in your lap.
Creep them, creep them,
Up to your chin,
Open your mouth wide,
But don't let them in!
Open, shut them,
Open, shut them,
Give them a really big clap!
Open, shut them,
Open, shut them,
Lay them in your lap.
My Hands Say Hello (T, P)
My hands say hello, (wave hands)
My hands say hello,
Everytime I see my friends,
My hands say hello.
Additional lyrics:
Feet (stomp feet)
Nose (wiggle or tap nose)
Ears (wiggle ears)
Tongue (stick that tongue out!)

Five Little Ladybugs (T, P)
Five Little ladybugs climbing up a door,
One flew away then there were four.
Four little ladybugs sitting on a tree,
One flew away then there were three.
Three little ladybugs landed on a shoe,
One flew away and then there were two.
Two little ladybugs looking for fun,
One flew away then there was one.
One little ladybug sitting in the sun,
She flew away and then there were none.
Source: rhyme found by colleague.
Small Town Story Time Lady
has also shared it.
FLANNEL BOARDS
Five Little Ladybugs (T, P)
This flannel board was created by another Children's Librarian in our library system.
ACTIVITIES
Egg Shakers (T)
Shake 'em eggs!
Animal Movement and Sounds with the Giant Die (P)
We borrowed a giant inflatable die from a fellow Children's Librarian and taped pictures of animals and an associated movement or sound. PiC and I rolled the die between the two of us and which ever animal was on top the children had to do. The kids loved it! We had "Hop like a Bunny," "Howl like a Coyote," "Wiggle like a Worm," "Flutter like a Ladybug," "Snap like an Alligator," and "Moo like a Cow."
CRAFT
Ladybug Has Four Dots coloring page (T, P)
This was a simple craft for both storytime groups. We made our own ladybug image after being inspired by a clip art found that a Michelle Webster created on
Clker.com
. For the spots we used a little circle die cut. All the children had to do was color and glue their dots on!
Ladybug Has Four Sports, storytime craft,
created by Dorothy (and PiC) WP-CC, 2014
PROPS
When doing storytime skits... you need props and costumes!
A selection of our costumes, Dorothy WP-CC, 2014
Ladybug Shirts
Just wear a red shirt and tape black spots (construction paper works wonders!) on to it!
Animal Headbands
I made the cow ear headbands from a pattern I got from
Ashley's Craft Corner blog
, which has great templates! As for the chicken comb... I just made it up! I cut the red felt folded in half so that the waves were matching. Before I glued the sides together I glued a pipe cleaner down the center so that it could bend to the wearer's head. Now, like with the cow ears (and horns) I made it so that the pieces could be slipped off the headbands. For the children comb I simply cut a slit in the middle of the piece and slipped it onto the headband. Think mohawk style!
Brave Cowboy or Cowgirl Props
For this story I work an old baggy westerny style shirt and CiP's hat for my costume. I was really glad that I had my ukulele because it was a perfect touch!
As for the items that the Brave Cowboy was afraid off, we used a large sunflower and a dowel rod as our props. Super simple. For the wolf, we placed our puppet on a podium at one end of the room.
Ukulele
As I mentioned before I played my ukulele and sang the lullaby during the
Let's Sing a Lullaby with the Brave Cowboy
skit. I didn't do any major strumming, but you really didn't need to because you're playing a lullaby melody. I saw the
sheet music
for the lullaby posted to the Missouri Building Block Award's board for the book. Sometimes translating guitar chords works well for ukulele, but this time around it didn't work for me. So, I created my own! Here's what I did:
The Brave Cowboy Lullaby
C C F C
It's time for little cows/us to rest their heads.
C C F G7
It's time for little cows/us to go to bed.
C C F C
It's time for little cows/us to sleep so tight.
C C F G7 C
It's time for us to say goodnight.
Obviously, you have to go through the "EEEEEK! Is that a huge hairy spider over there?" and so on, but it's so awesome. You can obviously changed the uke chords to something that works better for you and your singing ability.
TIPS
If you're interested in doing a storytime skit or something more along the lines of a skit, here are some tips that will hopefully help you be prepared!
Practice and get silly!
You need to be silly and moveable during a program like this. You are not just sitting in a chair or on the floor or simply standing there. You are talking and moving like the character in the story. I need to work on this part, by colleague did a wonderful job as Gerald the Elephant (I was Piggie). You are going to be an actor!
Have plenty of books on hand
. If you are doing such a program with more than one person, get more than one copy of the books you will use.
Dress accordingly.
PiC and I decided that we would simply where the same colors for
After effect.
After the program, especially when it was a success, be prepared to be tired but extremely pumped. The Storytime High is in full effect! Enjoy it. Love it. Bask in it. You deserve it!