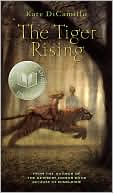 BIBLIOGRAPHY
DiCamillo, Kate. 2001.
The Tiger Rising
. Mass: Candlewick Press. ISBN: 0763609110.
*2001 National Book Award Finalist*
BOOK REVIEW
Life isn't so great for Rob. When his mother dies, he and his father move to Florida and are staying at the Kentucky Star motel. Plagued by an unusual rash on his legs and the victim of the school bullies, Rob keeps all his emotions deep down inside his "suitcase." However, one day, hidden in the woods behind the motel, he discovers a real and very large golden tiger locked in a cage. That same day he meets the new girl, Sistine, in his sixth-grade homeroom class. Unlike himself, Sistine has no trouble showing her feelings and her discontent of living in Lister and how she is waiting for her father to take her away. When Rob finally decides to share his secret to Sistine, the ice the two of them breaks and they create a friendship that revolves around the tiger and how to free it. In this brief novel, DiCamillo has captures the strong and real emotions of pain and grief of a boy coping with his with the death of mother and the anger of a girl caught between her parents divorce. Secondary characters like Willie May, a worker at the motel and a wise woman that Rob asks for advice, are not flat and have a life of their own, and the overall narrative and language is very real and descriptive and will draw the readers in to this wonderful Newbery Honor book.