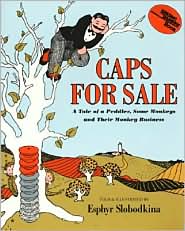 BIBLIOGRAPHY
Slobodkina, Esphyr. 1985 (org. 1947). Caps for Sale: A Tale of a Peddler, Some Monkeys, and Their Monkey Business. NY: Harper&Row. ISBN: 9780201091472.
REVIEW
One day when he was unable to sell any of his gray, brown, blue, red caps, a peddler takes a walk into the country. After carefully resting himself against a tree-trunk and making sure that all of his caps were still neatly stacked upon his head he decides to take a nap. When he wakes, however, he discovers his caps are missing, and finds them on the heads of some mischievous monkeys sitting in the tree, and a game of monkey see, monkey do ensues until the peddler gets his caps back. With the unique color combination of black, turquoise, blue, red, and ochre, the stylized illustrations add to Slobodkina's classic tale, which together presents a wonderful essence of a folktale, and still continues to engage to children (and their parents) of all ages. A great book to share aloud whether at home or at storytime.
CONNECTIONS
*
When reading aloud have the children help you recite parts of the story.
*
Cut out circles out of gray, brown, blue, and red felt, and as you read place the "caps" upon your heads. Children can also do this for themselves.