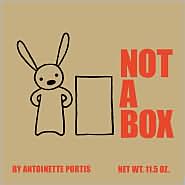 BIBLIOGRAPHY
Portis, Antoinette. 2006.
Not a Box
. NY: HarperCollins Publishers. ISBN: 0061123234.
BOOK REVIEW
When is a box ever just a box? To the little rabbit in Portis' imaginative picture book, a box is never a box. When an unseen narrator asks questions like "Why are you sitting in a box?" or "Why are you standing on a box?" the rabbit repeatedly replies with "It's not a box." Beyond the simple text, the illustrations are the element that creates the book. The bold black lines of Rabbit and his Not-a-Box on a white and tan background is used when Rabbit comes up with a new playful idea, and when the readers turn the back, the backgrounds changes to a pale yellow and red, and in bold red lines, which are superimposed over the previous illustration, will show what the not-a-box has turned into, such as mountain peak or a race car. The playful imagination seen in this fun little book, which itself is covered in brown paper and looks like a box, is reminiscent of Johnson's
Harold and the Purple Crayon
and equally fuels the creativity in every young children to think outside of the box.
C
ONNECTIONS
*
Read Portis' other imaginative book
Not a Stick
and Crockett Johnson's
Harold and the Purple Crayon
.
*
Have a fun craft time and have the children take a small box (e.g. an animal cracker box) and create whatever they think a box is.