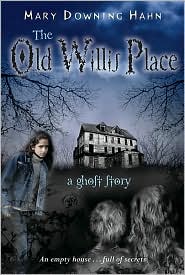 BIBLIOGRAPHY
Hahn, Mary Downing. 2004.
The Old Willis Place
. NY: Clarion Books. ISBN: 0618430180.
BOOK REVIEW
For years twelve-year-old Diana and her ten-year-old brother Georgie knew the rules. They weren't supposed to go past the gate of the Old Willis Place, not to go into the Willis house, and they were not to make friends with anyone. But when the new caretaker, Mr. Morrison, and his daughter Lissa arrive, Diana wanted to break the rule and be friends. After living wild on the grounds for so long and seeing old caretakers come and go, seeing someone their own age who had a bicycle, many books, and a teddy bear was exciting to Diana and Georgie and brought them back memories of years before. Much to her brother's disapproval, Diana finally meets Lissa and they form an interesting and mysterious friendship that revolves around the creepy and supposedly haunted Old Willis house. Through the narration of both Diana and Lissa (via her diary entries), readers, along with Lissa, will be piece together the illusive story of Diana and Georgie and what happened in the Willis house with its owner Ms. Lillian Willis. Once again Hahn has written a compelling story of haunting, friendship, and forgiveness that will keep its for ghost stories.
CONNECTIONS
*
Read more of Mary Downing Hahn's ghost stories:
Wait Till Helen Comes
,
The Doll in the Garden
,
Time for Andrew
,
Deep and Dark and Dangerous
,
All the Lovely Bad Ones
.