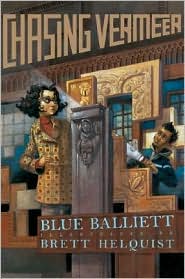 BIBLIOGRAPHY
Balliett, Blue. 2004.
Chasing Vermeer
. Illus. by Brett Helquist. NY: Scholastics Press. ISBN:9780439372947.
BOOK REVIEW
When a mysterious person claims that some of the paintings attributed to the famed Dutch painter Johannes Vermeer are in fact not his and ultimately steals the painting A Lady Writing while it is transit from one museum to another, two sixth-graders, Calder Pillay and Petra Andalee are on the case. Mystery and intrigue is around every corner as Calder and Petra become friends and begin to find a connection between their free-spirited schoolteacher, a used bookstore owner, an old woman, Calder's friend Tommy, and even their own parents. Putting together the history and art of a famed 17th century painter, a book about unusual phenomena, use of pentominos, and codes, Balliett's first novel successfully captures the excitement of a crime solving with a smart and detectives that remind readers of K.L. Konigsburg's classic From the
Mixed-Up Files of Mrs. Basil E. Frankweiler.
Helquist's detailed black and white illustrations are sprinkled throughout the book, which have their own puzzle for readers to solve, and adds to the overall thrilling book.
CONNECTIONS
*
Read Balliett's other mystery art books:
The Wright Three
and
The Calder Game.