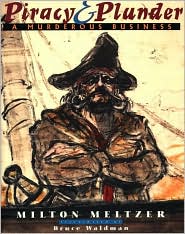 BIBLIOGRAPHY
Meltzer, Milton. 2001.
Piracy & Plunder: A Murderous Business
. Illus. by Bruce Waldman. NY: Dutton Children's Books. ISBN: 0525458573.
BOOK REVIEW
In his book
Piracy & Plunder: A Murderous Business
, Meltzer breaks the spell of the romanticism that has been associated with pirates and their way of life that has been set by pop culture. In brief chapters the book explores the details of the harsh and cruel life of piracy, which includes its history (beginning with the ancient Greeks and goes to the Vikings, 18th century, and up to the modern day), the reason behind why men and even women came to the ruthless profession, to life aboard ships, the Code of Conduct, marooning, and discusses the many of the famous pirates like Blackbeard, Captain Kidd, and Sir Henry Morgan, to the truth of buried treasure, forms of torture, and the connections that pirates had with slavery. Waldman's tan, black and red and somber friend-hand artwork provides the extra visual to the already attention grabbing text, and the geographical maps that are scattered through the text adds to the context of describing the locations of the infamous pirates and their ports of call. At the end there is a selected bibliography for future reads and a detailed index. An excellent book for those fascinated by the pirates, who are doing report and for the history lovers.