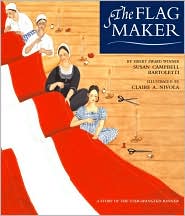 BIBLIOGRAPHY
Bartoletti, Susan Campbell. 2004.
The Flag Maker
. Illus. by Claire A Nivola. Mass: Houghton Mifflin Company. ISBN: 0618267573.
BOOK REVIEW
In 1812 the United States was at war with Britain. Near the Fort McHenry in Baltimore, Maryland lives the widowed Mary Pickersgill who sawed flags for the American militia, cavalry, and privateers. Mary's twelve-year-old daughter Caroline helped her mother sew many of the commissioned flags. One flag in particular that Caroline assisted her mother on was the large flag for Fort McHenry that will later be known as our country's Star-Spangled Banner. Inspired after learning that a young girl helped sew America's beloved flag, Bartoletti has created a story based of her research and a little of her imagine to bring the readers a unique and fresh point-of-view to the story of the famous flag. Though it does not directly include information about Francis Scott Key, who watched the battle at the fort and wrote what would become the National Anthem, Bartoletti incorporates sections of the lyrics into the narrative. The folk art style illustrations are clean, colorful, and truly illustrate clothing, life, architecture and the great size of the flag. At the end, the book provides an Author's Notes that provide information about her research, more facts about the story of the flag and the battle at Fort McHenry, and how some parts of Caroline's story are still unknown and debatable, such as if other family members and servants helped in the flag making. The book also provides Flag Facts and a bibliography of letters and other sources that the author used. Perfect as a beginning book for those learning of story of our nation's flag.
CONNECTIONS
*
Read more books about the Star Spangled Banner:
The Star Spangled Banner
by Amy Winstead and Illus. by Bob Dacey and Debra Bandelin.