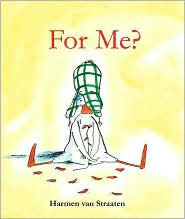 BIBLIOGRAPHY
van Straaten, Harmen. 2007.
For Me?
. Trans. by MaryChris Bradley. NY: NorthSouth Books. ISBN: 09780735821637.
BOOK REVIEW
When Duck discovers that someone had left him a rose and a note with only a heart drawn on it he takes it to his friend Toad. Toad as well as their other friends and neighbors, Otter and Hedgehog, also got the same mysterious doorstep gift. "What do you think it means?" they all ask and they begin to theorize that who the giver is and that perhaps one of them is in love. It is only until a someone arrives at the house do they find out who had given them the presents and why. Harmen Van Straaten's watercolor illustrations that have a combination of subtle color changes to the background and the characteristics of the four friends add touches of whimsy and charm to this all ready lovely story. Young readers will especially like Duck's hat.
For Me?
is a fun book about friendship that would appeal to all readers.
CONNECTION
*
Ask the children how they would say "Hi" to their new neighbors when they just move to a new home.
*
What would they think if they received a single flower and a note on their doorstep?