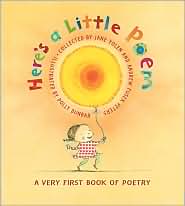 BIBLIOGRAPHY
Yolen, Jane and Andrew Fusek Peters. 2007.
Here's a Little Poem: A Very First Book of Poetry
. Illus. by Polly Dunbar. Mass: Candlewick Press. ISBN: 9780763631413.
BOOK REVIEW
In this delightful anthology, poets Jane Yolen and Andrew Fusek Peters introduce the beauty and fun of poetry to very young readers with sixty-one little poems. Organized into four parts, "Me, Myself, and I," "Who Lives in My House?," "I Go Outside" and "Time for Bed," the collection exudes the playful, imaginative, rambunctious and even peaceful thoughts and actions of children in their everyday life with poems that range from the disgust of green veggies (
"Soggy Greens
") to the love of pets (
"Cat Kisses"
)
and grandparents ("
Grandpa
") to playing at the beach (
"Sand House"
) and to getting ready for bed (
"After a Bath"
). Despite the various rhythms and rhymes, with the lively use of words, which are especially seen in
"Rickety Train Ride
": "It's an ever so rickety trickety train,/And I honestly thickety think/That before it arrives/At the end of the line/It will tip up my drippety drink," and themes like playing in mud, all the poems radiate fun and humor for everyone to enjoy. Dunbar's mix-medium (vibrant watercolors with accents of handmade paper collages) artwork fill this over-size formatted book and provides amazingly wonderful illustrations of children doing what they do best and that complements each of the poems. With works written by many of the contemporary and well-known poets, which include the Nikkie Grimes, J. Patrick Lewis, and Jack Prelutsky, as well as the famous authors/poets from by—gone years like Langston Hughes, A.A. Milne, and Robert Louis Stevenson, readers of all ages, including adults, will be enchanted by the refreshing charm of these beginning poems.