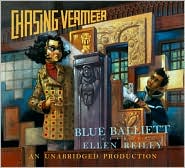 BIBLIOGRAPHY
Balliett, Blue. 2004.
Chasing Vermeer
. Read by Ellen Reilly. NY: Random House Audio Publishing Group. Compact Disc - Unabridged, 5 CDs. ISBN: 9780307206732.
AUDIOBOOK REVIEW
When a mysterious person claims that some of the paintings claimed to be created by Dutch painter Johannes Vermeer are, in fact, not from his brush, then ultimately steals the painting
A Lady Writing
to make his point, two sixth-graders, Calder Pillay and Petra Andalee are on the case. Mystery and intrigue is around every corner as Calder and Petra become friends and begin to find a connection between their free-spirited schoolteacher, a used bookstore owner, an old woman, and even Calder's friend Tommy. Putting together the history and art of a famed 17th century painter, a book about unusual phenomena, use of pentominoes, and codes, Balliett's first novel successfully captures the excitement of a crime solving with a smart and detectives that remind readers of K.L. Konigsburg's classic From the
Mixed-Up Files of Mrs. Basil E. Frankweiler.
Reader Ellen Reilly does a good job at presenting each character with a different voice. Though at times Calder's voice, at times, comes across as a nasal and ignorant, the latter of which this main character is not, and, she pronounces Petra's name differently through out. However, as you get wrapped up in Balliet story of mystery, puzzles, and intrigue, you will begin to gloss over these minor faults. A great fun, mysterious and exciting choice to for those who want to read-a-long with the book or to listen on its own.