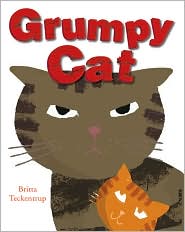 BIBLIOGRAPHY
Techentrup, Britta. 2008.
Grumpy Cat
. NY: Boxer Books. ISBN: 9781905417698.
*A 2009 Texas 2x2 Book*
BOOK REVIEW
Cat is grumpy. He sits between his trash cans alone, he eats alone, and he sleeps alone. However, Cat is also a lonely cat as he doesn't know how to join the other cats to play. Then when night, during a thunderstorm that leaves him wet and cold, a Kitten appears. Despite still being grumpy and trying to lose her, all of the brown and black stripped Cat is constantly followed by his new and unwanted friend Kitten. The orange and brown stripped kitten tries to play with him, wiggles her tail under his nose, pulls his tail and shows him her soft tummy. However, Cat is still grumpy until Kitten nearly falls out of a tree. This is a short and simple story of how a friendship is formed that young readers will like. The illustratrions are a combination of bold and soft and are graphically tectured what brings to mind that of other artists like Eric Carle, though less bold and colorful and more realistic. The young readers will like the grumpy look of Cat and the playfullness of Kitten. With the combination of the oversize bookform, lovely illustrations, and the clean text, young readers are sure to enjoy.
CONNECTION
*Ask the readers if they were ever grumpy until one of their friends came to visit or when a new friend came a long.