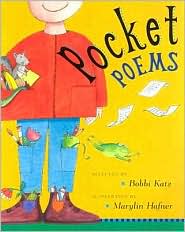 INTRODUCTION
Time for a lunchtime poem! Share this poem when you're breaking for lunch or when you're learning about food. Pair this with other poetry books about food or mealtimes, such as Laura Purdie Salas' new book Lettuce Introduce You: Poems About Food.
POEM
Lunchbox


By Valerie Worth

They always
End up
Fighting–

The soft
Square
Sandwich,

The round
Heavy
Apple.
EXTENSION
Invite the children to look into their lunch box and create a little story about the food they find inside of it. A limerick is a perfect poem form to use. Or have them create an acrostic poem by using the names of the food they have for lunch like APPLE, SANDWICH, MILK, JUICE and much more! Ask them if the food they have would like being in a lunchbox together or would they disagree with each other like the sandwich and the apple in the poem.
BIBLIOGRAPHY
This poem is from:
Katz, Bobbi. 2004.
Pocket Poems
. Illus. by Marylin Hafner. NY: Dutton Children's Books. ISBN: 0525471723.