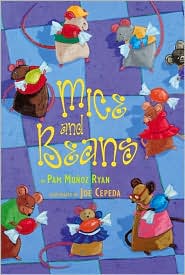 BIBLIOGRAPHY
Ryan, Pam Muñoz. 2001.
Mice and Beans
. Illus. by Joe Capeda. NY: Scholastic Press. ISBN: 0439183030.
PLOT SUMMARY
Rosa María is planning a big birthday party for her granddaughter Little Catalina's seventh birthday. As checks her list and prepares all the food, she makes sure that her home mice-free by setting a mousetrap every night. But along with candles, a bag, and cloth napkins, the traps keep on disappearing. In all her preparing for every detail, Rosa María forgets to do one last important thing on her list, but with the help of the mice living in her pantry Little Catalina's birthday party is a great success.
CRITICAL ANALYSIS
This is a charming book of a warm and big hearted grandmother Rosa María who tiny house with a tiny yard that has room for everyone "except for a mouse" and the traditions of a birthday traditions that include piñatas and some delicious Mexican foods that include the rice and beans that "no dinner [is] complete without." There are many subtle yet wonderful cultural makers within Ryan's narration. There are a plethora of Spanish words and phrases written into the story. Many of the foods that Rosa María cooks are written in Spanish, which many readers would already be familiar with:
enchiladas
,
frijoles
(beans),
dulce
(candy) and
tortillas
. There other terms that readers may or may not be as familiar with like
bolsa
(bag),
casita
(house),
cielos
(heavens),
fiesta
,
piñata
,
ratones
(mice),
feliz
cumpleaños
(happy birthday), and
pasterlería
(pastry shop). Rosa María also says on numerous occasions, especially when she forgets something or can't find an item that goes missing:
no
importa
(it doesn't matter) and
fíjate
(imagine that) and
qué boba soy
(silly me).
Another quality of the text is how it is formatted. It takes Rosa María a week to prepare for the fiesta, and the days of the weeks are highlighted for readers to recognize and for young readers to learn the days of the week. There is also a refrain when she sets the mousetraps every nice to "snap" before she goes to bed, which can be utilized during storytime as a way for the children to participate in the telling of the book.
The bight, cheerful and extremely colorful illustrations fill all the pages and truly helps bring the story to life. Rosa María's house is pink on the outside and very colorful on the inside. Rosa María herself is depicted as a cheerful and friendly grandmother who wears red-rimmed classes, has a blonde behave hair, long read fingernails, and culturally authentic light brown skin tone. The true celebration of the Hispanic culture in the story is seen at the very end of the book when Rosa María's large family gathers at her house to celebrate Little Catalina's birthday. Everyone has light brown skin and brown to black hair and everyone enjoys the great meal that she had made and loved the piñata. Readers will also love finding the mice, who are wearing clothes, in the illustrations.
For readers who do not know any of the Spanish terms there is a glossary and pronunciation guide at the end of the book. Also, on the back cover there are the recipes for the traditional rice and beans that "no meal is complete without." This a great book that all readers will enjoy and relate to the tradition of a family gathering for celebrating a birthday and opening one's house to everyone.
BOOK REVIEWS
BOOKLIST
Ages 4-7. It's time for Little Catalina's seventh birthday, and grandmother Rosa María is ready to celebrate. She has room in her heart and her casita for nearly everyone on this happy occasion – everyone except mice. Grandmother sees to the details, from food to fun. But she forgets to fill the empty piñata, and when she discovers that mice have filled it for her, she opens a place un her joyful heart just for them. The story is charming, but what makes it special is the quiet authenticity of the Hispanic characterizations. Cepeda's pictures are as good as the story, with bright, funny scenes depicted from human (looking down) and mouse (looking up) points of view. A delightful birthday or anytime book. – Kelly Milner Halls. 2001.
KIRKUS REVIEWS
Kindheartedness lies at the core of this story, even if the main character wishes to banish all mice-via a battery of snapping traps-from her hearth and home. Rosa Maria might live in a tiny house, but she wants to celebrate the birthday of her grandchild Little Catalina with a party and lots of food. "When there's room in the heart, there's room in the house, except for a mouse!" So she sets a trap to make sure none of her preparations are snacked upon by the resident mice. Strangely, each evening as she goes to check on the traps after fixing up a batch of enchiladas or frijoles (Spanish words are sprinkled throughout the text), the traps are gone. She blames her own forgetfulness and sets another. Comes Catalina's big day and Rosa Maria suddenly remembers that she has forgotten to stuff the piñata with candy. But it's too late-the children are already whacking away. When scads of candy cascade from the piñata as it bursts, Rosa Maria figures she has simply forgotten that she filled it. Yet when she is cleaning up after the party, she discovers evidence of mice-"RATONES!"-and said evidence also points to the mice having stuffed the piñata for Rosa Maria. So she changes her tune: "When there's room in the heart, there's room in the house, even for a mouse." In artwork as sumptuously rich as Catalina's birthday cake, Cepeda's (Daring Dog and Captain Cat, above, etc.) color-drenched scenes stuffed with detail make Rosa Maria's world a pleasure-giving place. And now that the mice are welcome-these mice, after all, pull their own weight-it might be the most beneficent home ever. (Picture book. 4-7)
CONNECTIONS
*
Read more books by Pam Muñoz Ryan like
Nacho and Lolita
.
*
When reading the book have the children clap their hand once whenever the story reads "When it was set and ready to SNAP."
*
Ask the children if they ever had a big birthday party like what Rosa María created for her granddaughter.