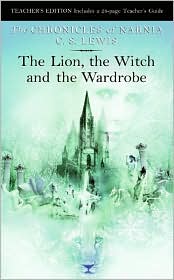 BIBLIOGRAPHY
Lewis. C.S. 2000 (org. 1950).
The Lion, the Witch and the Wardrobe
. Ilus. By Pauline Baynes. NY: Macmillion Publishing Company. ISBN: 0064472604
BOOK REVIEW
Captivating readers of all ages for over fifty years, C.S Lewis has brought to life the magical world of Narnia and its many inhabitants through the eyes of the four Pevensie children. Having been evacuated to the English countryside during World War II Blitz, Peter, Susan, Edmund and Lucy Pevensie find themselves in a large house owned by Professor Kirke, and while exploring the house, young Lucy finds, in the back of the wardrobe, an entrance to another world and meets the faun named Mr. Tumnus. Despite their initial disbelief when Lucy recounts her discovery, the older siblings and Lucy finally find themselves in Narnia and soon discover that they are part of the ancient prophecy that is bring the reign of the White Witch to an end. As they journey through Narnia the Pevensies meet creatures of all sorts and experience betrayal, loyalty, death, resurrection and redemption as they join with the great lion Alsan, king of Narnia, to save the mystical land. Combining Norse and Greek mythology and influences from the Bible, Lewis' has given the human world an amazingly detailed and engaging fantasy story that has withstand the span of time and continues to bring readers into his magical world.
CONNECTIONS
*
Continue the to be entranced by The Chronicles of Narnia with:
*Prince Caspian(1951)
*The Voyage of the Dawn Treader (1952)
*The Silver Chair (1953)
*The Horse and His Boy (1954)
*The Magician's Nephew (1955)
*The Last Battle (1956)
*
Read the Chronicles either by publication order (as above) or by chronological order according to Narnia:
*The Magician's Nephew (1955)
*The Lion, the Witch and the Wardrobe (1950)
*The Horse and His Boy (1954)
*Prince Caspian (1951)
*The Voyage of the Dawn Treader (1952)
*The Silver Chair (1953)
*The Last Battle (1956)