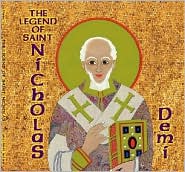 BIBLIOGRAPHY
Demi. 2003.
The Legend of Saint Nicholas
. NY: Margaret K. McElderry Books. ISBN: 0689846819.
BOOK REVIEW
Around the year A.D. 280 in what is now present-day Turkey a boy named Nicholas was born to Christian parents. From his first day of life when he stood up in his bath and prayed to God to day that he felt his spirit being drawn to Heaven, Nicholas lived a pious life and through his good and miraculous deeds towards children, seafaring men, and many others he became the St. Nicholas that many know to this day and associate with the famous jolly old man himself – Santa Claus. In this well-researched picture-book-biography, Demi presents the life of the saint through the miraculous events he performed and the history of how he came to be connected to the Christmas holiday through the concise narrative. The rich complementing illustrations are highly reminiscent of the Byzantine illuminated artwork (very befitting for the subject) with accents of gild and has hints of modern additions like the marbleized patterns seen on the clothing and the traditional red and white stocking. With the inclusion of the Prayer of St. Nicholas and the Beatitudes, this book presents the interesting record of this important religious figure to all to learn and enjoy from.
CONNECTIONS
:
*
Read more about St. Nicholas with books like
The Real Santa Claus: Legend of Saint Nicholas
by Marianna Mayer.
*
Read other historical figure books by Demi:
Mother Teresa
and
Ghandi
*
Read other books about religious figures from around the world by Demi:
Jesus
,
Mary
,
Buddha
, and
Muhammad
.